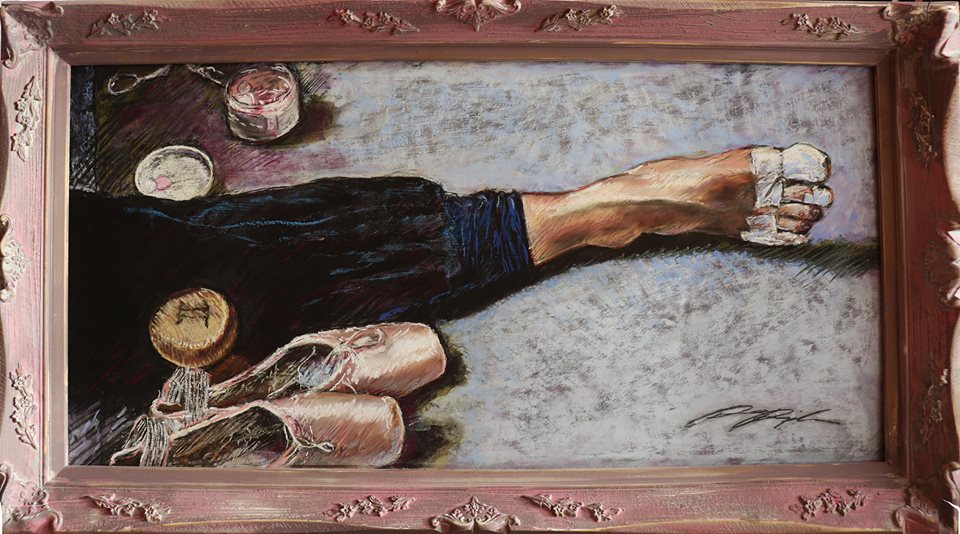 Canadian Artist Paul Rasporich
Paul Rasporich was born in Winnipeg, Manitoba on January 12th, 1965.
Painter
After graduating from the commercial art program at the Alberta College of Art in 1986, Paul first thought that he would like to pursue a career in editorial illustration. Instead of heading to New York City, where he was accepted to do a Master's of Illustration degree, he chose instead to open a design and illustration studio in Vancouver with his wife, author Lee Kvern
He was 1 in 4 Canadians to have an illustration featured in Communication Arts Magazine in 1987.
Paul found that illustration work was hard to find and subsist on, and in his final year of Art College, he had been able to see work in Washington, D.C., where Salvador Dali's, The Sacrament of the Last Supper, which had a lasting impression on him. He wanted to raise his painting skills to that high degree - (even though it is known now that Dali had an assistant do much of the technical work on that painting).
Since illustration is essentially bringing someone else's vision to fruition, Paul badly wanted to start developing his own artistic vision, even though representational, art with a narrative was and still is not considered 'cutting edge.' he learned all he could, combining all of his influences and learning the techniques Vermeer, Dali, Michelangelo, Andrew Wyeth, Maxfield Parrish, Edward Hopper, John Singer Sargent, and Norman Rockwell. Paul feels that his Portrait of his Great Grandfather that he did during this time, is his best painting, as he says,
Like Salvador Dali, Paul became obsessed with the work of Vermeer, whom Dali regarded as being the greatest painter of all time. Dali said that if he could have painted only one painting, it would have been the Lacemaker. Paul was fascinated by Vermeer's techniques and use of optics, which pre-supposed photography and cinema by hundreds of years. The tranquility and domestic peace in his paintings were also at odds with Vermeer's highly pressured home life, and early death. Where Dali's Last Supper was an amazing spectacle to him, the clear and peaceful light he saw in the Young Woman with a Water Pitcher at a visit to the Metropolitan Museum in New York City made an even more lasting impression on him.
After honing his painting skills for another year, Paul and his wife Lee returned to Calgary where he started professionally selling his paintings at Master's Gallery in Calgary - where he would later have two exhibitions. His work at that time focused on figures immersed in thought, or at work, detached and unaware that that they are being viewed. Paul borrowed the 'quiet composition,' from Vermeer, just as many painters, such as the Canadian painter Alex Colville had.
In Paul's painting, Midnight Feeding, he pays homage to Vermeer and Norval Morrisseau in a domestic scene of his wife Lee feeding their son, against the backdrop of Norval Morriseau's, The Visionary, denoting the interconnection and interdependence of all of life.
In the 1990's, Paul, inspired by Salvador Dali, worked on surreal, metaphysical works, and corresponded with Dr. Kenneth Ring, a leading researcher on Near-Death Experiences. Paul was fascinated by Ring's findings, and did a painting entitled Tunnel Vision, based on the first account that brought Ring into the field of Near Death Studies.
Paul has always been interested in painting other artist's that he has been inspired by. After watching the movie Field of Dreams in 1989, Paul wanted to meet the mind behind the story, so he set out to meet and paint writer W.P. Kinsella, which he did in 1991. Paul was also inspired by the story of ballet star Karen Kain, who spoke of regaining her love for her art form, after a series of physical and mental challenges. Paul wrote her, and was thrilled when she agreed for him to a painting of her Calgary, as she was doing one of her final performances in her role of the Swan Queen. Of their meeting, Paul says,
It isn't easy for an artist to make living, yet an artist can't help being what they are. First starting out, it seemed really important to me to talk to an artist that I greatly respected. I met Karen Kain that afternoon at the Jack Singer Concert Hall in Calgary. Margot Fonteyne had just passed a couple of days previous, and I think that this was on Karen's mind. Margot Fonteyne mentored Rudolph Nureyev, and Nureyev mentored Karen. At one point, Karen said to me that she could see that I was a 'real' artist, and that I should never forget this. Her words carried me through a lot, and for this I consider her to be a great, crucial artistic mentor.
Paul found after his exhibitions that there was a high demand for him doing portrait work, and he did many private portrait commissions of families and business leaders, which he did full-time for five years. The only way that he could enjoy the process of painting families, was to depict the children doing what they might naturally normally be doing during the course of a day.
Paul gained a solid reputation for portraiture, was shortlisted to paint numerous former Prime Ministers for the House of Commons in Ottawa. Paul was even considered to paint Queen Elizabeth for the House of Commons on the occasion of her Diamond Jubilee, but was chafing under the pressure of finding and doing commissioned work, and decided to go back to school to earn a teaching degree.
Paul started teaching full time in 2002, and has just recently cut down his teaching to half time to resume his career as an Artist.